Overview
You can share Facet5 data and reports with anyone you want

Sharing data online means you can manage and remove access at any time

Profiles shared can be used on the Compare page
Who can you share with?
You can share your Facet5 profile with anyone - they don't need to have their own Facet5 report.
If the person you have shared your data with doesn't already have a myFacet5 account, they will need to register before they can access this. This means your data is kept safe and is specifically linked to this account.
How to share
You can share either from the Share page, from the Dashboard, or on the Report pages themselves.
Sharing in 4 steps:
Click "Share my Reports"

In the pop up box, type the email address of who you want to share with. Use a comma between emails if sending to multiple emails.

Use the checkboxes to select which reports you want to share. If you have Factor scores available in myFacet5 these will also be shared, which will be visible in the Compare section.

Click Share. A pop up will confirm who you have successfully shared with.
Pending invites are listed on the Share page, where you can send reminders and see who you are currently sharing with and reports available for you to view.
Sharing works two-way
Sharing is always two way, as long as both user's have the report being shared for themselves on myFacet5.
Here's an example: If you share your Spotlight Report and Foundation Report with someone who only has a Spotlight Report, when they accept they will automatically share their Spotlight report with you.
If they later link a Foundation report to their myFacet5 account, this will automatically be shared with you, unless this sharing has been removed.
If you have shared reports with someone but cannot access theirs - you won't see a link to the report, the symbol will be one person and the hover text will say "Only you sharing" or "No reports shared".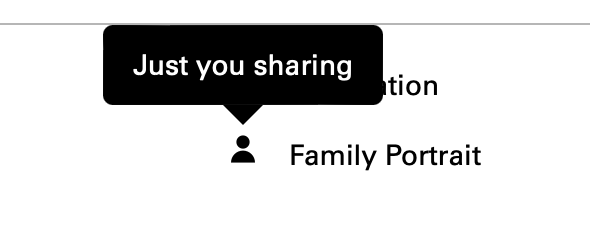 They may not have this report, or not have it linked to their myFacet5 account.
If you have any questions about Sharing on myFacet5, get in touch or leave a comment below.