Your Personality. In your hands. Take it wherever you go. Use it whenever you need.
Whether at the end of a debrief, a leadership workshop, or a team session - the feeling is often - 'What next?'.
We know personality goes wherever we go, and although each report remains accurate over many years and situations ahead of us, most people struggle to re-visit with their profile without the guidance of a coach or facilitator.
myFacet5 empowers ...
individuals to take their personality with them, realise fresh insights and make better choices

team members

to exchange and compare profiles for more understanding, communicative and adaptive relationships
managers to have more meaningful and realistic development conversations
What is it?
myFacet5 is a Web App.
It's an Application, on a Website.
Practically, this means it works across a whole mix of devices, browsers and operating systems,

r

egardless of the version being used. So y

ou can use it on a computer, tablet or mobile -

whatever works best for you.

Web-based applications also have a greater ability to integrate with other systems, and upgrades are applied seamlessly without app updates needed.
Features to Explore
Available with a Facet5 Profile (Foundation / Personal Profile)
myFacet5 is a great tool to open up extraordinary conversations between two people, making visual profile overlays easy and encouraging people to share reports.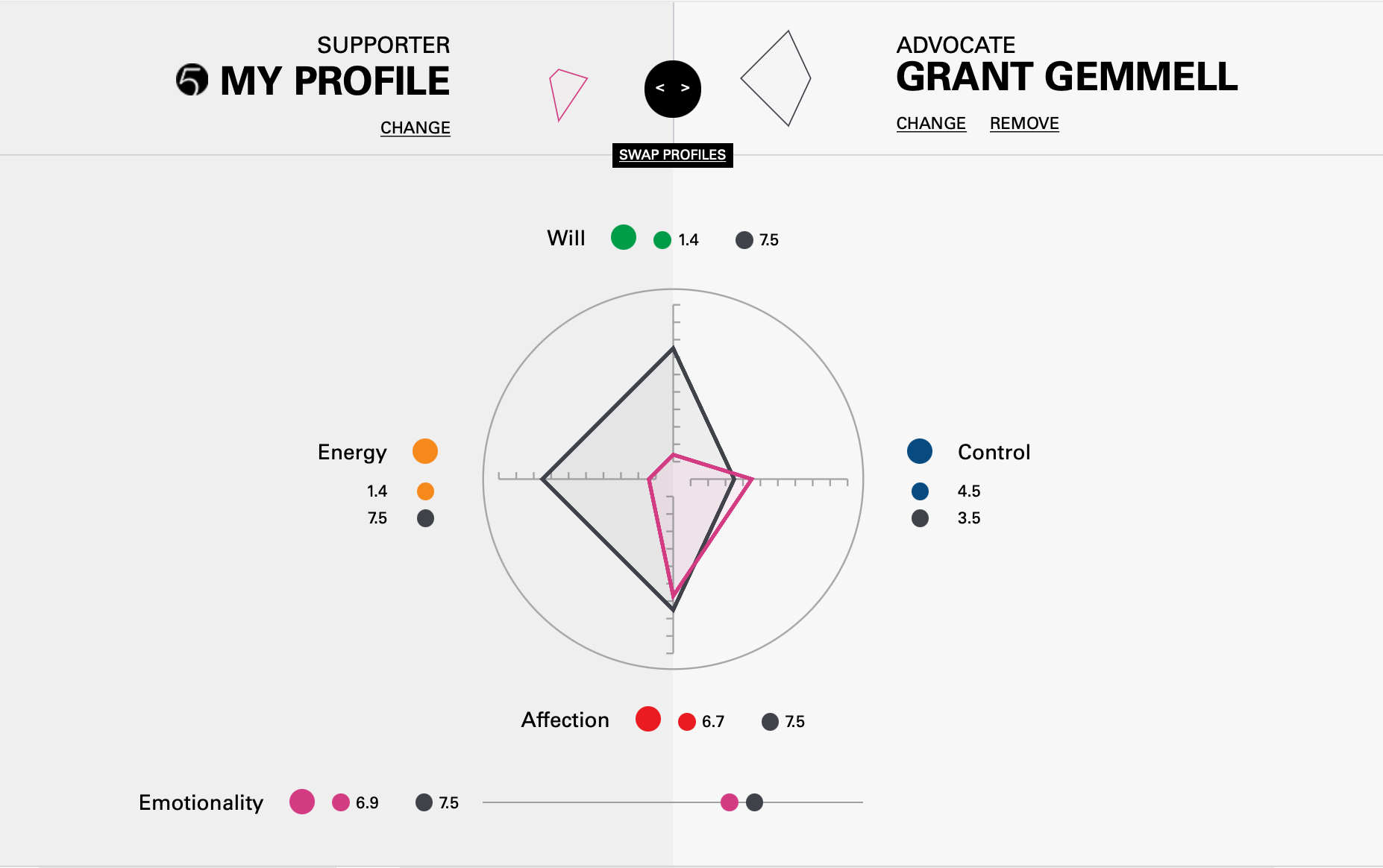 Share.
Share your profile data and/or reports with others, all within myFacet. They don't need a Facet5 Profile in order to create a myFacet5 account and sign in to view the report.
This also means reports are shared in a more secure way than using email, allowing people to see who they have shared with and remove access at any time.
Compare.
Compare personality between two people with shared profiles , or between two families. This helps to understand your personality better by understanding contrasting approaches, enable honest conversations and feedback, and recognise benefits and challenges of working with different people.
Available with Spotlight
Action focused
Supports a step-by-step approach to using Spotlight, using the personal challenges for growth and development planning.
Coaching notes
Includes detailed tailored coaching notes for each challenge, to help people reflect on their preferences and consider the value of this development and actions they could take.
Next step suggestions
Simple steps to create a personal growth plan or to have a coaching style conversation. To help take insights off the screen and into action.
Strength statements
Anyone with a Spotlight report will see one of their personal 13 strength statements on their Dashboard. It's easy for development to become about changing or overcoming ourselves - this encourages people to remember what they do best.